Poppy Station Trainings and Workshops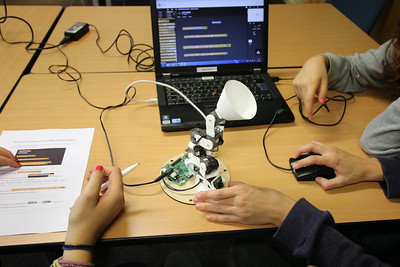 Poppy Station members developed activities and training around opensourc
e robots and a
rtifici
al intelligence for b
etween 1 and 5 days (7 to 35 hours). They are intended for beginners with little or no experience in computer programming, regardless of age, children or adults.
The courses cover the following topics and each include a hands-on activity and a thematic challenge:
Visual programming on the Thymio II robot. The challenge: "Autonomous Navigation"
Visual programming on the Ergo Jr. robot The challenges: "Poppy makes her chameleon" and "The upheaval-all"
Python programming on the Ergo Jr. robot The challenge: "The doll that does yes and no"
Artificial intelligence by neural networks with Keras in Python. The challenge: "Can Poppy read the handwriting?"
In order to provide these trainings outside the association, Popy Station has mandated the trainers below to intervene on request.
Do you need practical workshop training? We operate on your premises according to your scheduling constraints, public, and provide the robotic equipment necessary to conduct the training. You can apply via the form at the bottom of the page.
Contractor Engineer
https://www.linkedin.com/in/myoan/
Yoan is a robotics research engineer at Bordeaux INP and an entrepreneur in digital art since 2018. He is in charge of Poppy Station training.
Doctor of Educational Robotics
https://www.linkedin.com/in/thibaultdesprez/
Thibault supported a thesis on the theme of Designing – evaluation of educational robotic kits in 2019. He is the editor of several Poppy Station activities and is involved in the Perseverons project using technology for school perseverance.
Artificial Intelligence Research Engineer
Student engineer
https://www.linkedin.com/in/etienne-schmitz/
Etienne is in his second year of computer engineering school, participating in the Robocup SSL global robotics competition, and quickly became interested in digital mediation through robotics.
Ask for training or a workshop
You can contact us here to request training or a workshop. Please describe your training or workshop project, including:
The topic or topics to be discussed
The number of participants and their profile
The place you want
Robotic equipment available on site
Computer equipment available on site